FTP Instructions
Email with FTP Login Information
STEP 1: Review email received from Labyrinth
(subject heading - www.yourdomain.com new website information) - sample content below:
-- Web Site Setup Info --

You are receiving this mail because the domain www.yourdomain.com was just created or moved to a new server.

FTP to : www.yourdomain.com
Username : www_yourdomain
Password : p890nt

If this is a new domain, you'll need to make sure that the WHOIS info on your domain points to our nameservers. Your domain registrar should have given you a control panel URL, username, and password for changing this data.

DNS Servers:
ns.labyrinth.net - 63.66.160.10
ns2.labyrinth.net - 63.66.160.11

Our NIC handle is HL429-ORG

Please retain this information for your records.

This message was sent automatically by the webserver at Labyrinth Solutions - please do not reply.
If you have any questions, please call 304-292-7700 or mail support@labs.net.
STEP 2: Install and open CuteFTP
When the program loads, name your website.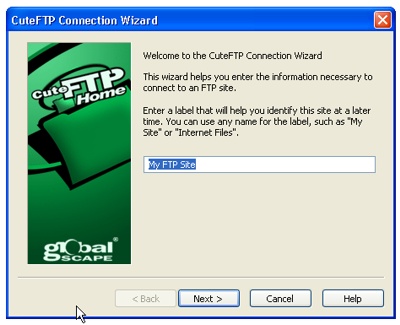 Add your domain name (yourdomain.com), in this case, we've put labyrinth.net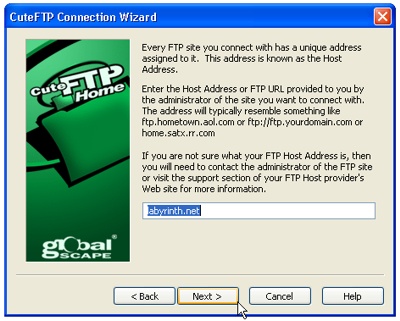 Enter the assigned UserID and Password provided in Labyrinth's email (example above)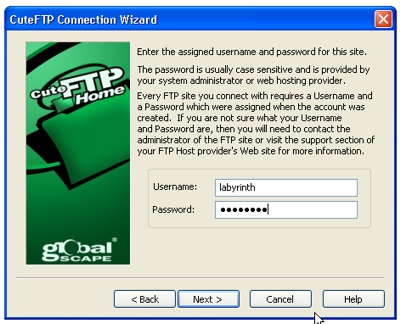 Enter the path to your website folder on your hard drive by browsing for it: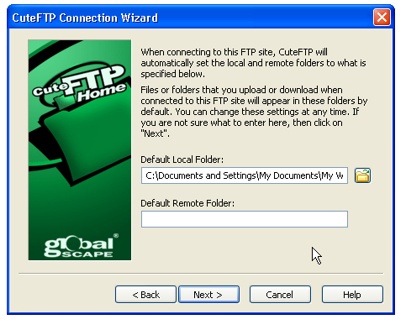 The program will now attempt to connect to the server. You can also click the Site Manager button in the upper left.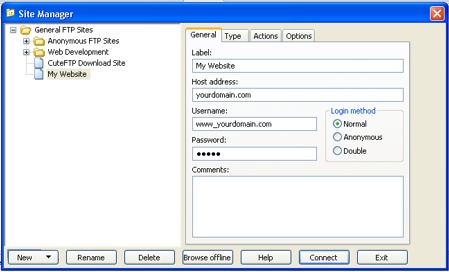 Fill in the information provided in Labyrinth's email into the Host Address / Username / and Password fields and hit Connect.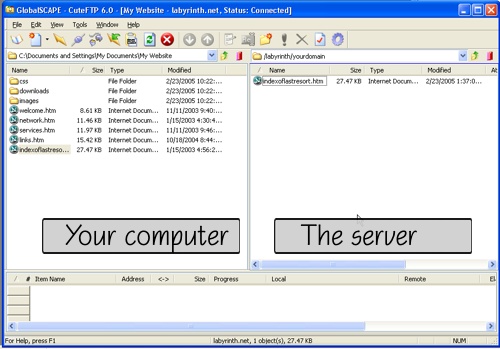 Once connected, you will see your default website directory on your computer on the left and the server on your right. To copy files over, just drag and drop your files from left to right onto the server side. To copy an entire folder, drag and drop the folder.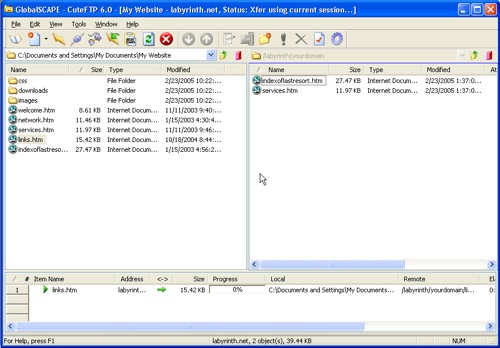 When you copy a file, the file will appear in the queue box at the bottom where you will see the file size and progress of the upload. The file will disappear from the queue box once uploaded to the server. Now you've uploaded your files to the server!
Always remember to keep backups of your website content and graphics on your local computer.